Ready for the journey ahead
Work guaranteed
40 years keeping cars on the road
Repairs prioritised to keep driving costs down
Service book stamped, warranty protected
Quick Quote
Looking for tyres and don't know your reg? Click here
MOT Test Checklist
The MOT test is a safety inspection of your vehicle and it is a legal requirement that it is undertaken annually once a vehicle reaches three years of age.
The DVSA (Driver and Vehicle Standards Agency) have specific conditions that the vehicle must pass in order for it to be deemed road and environmentally safe.
Find out what is inspected during the MOT test here:
What is Checked
Car Interior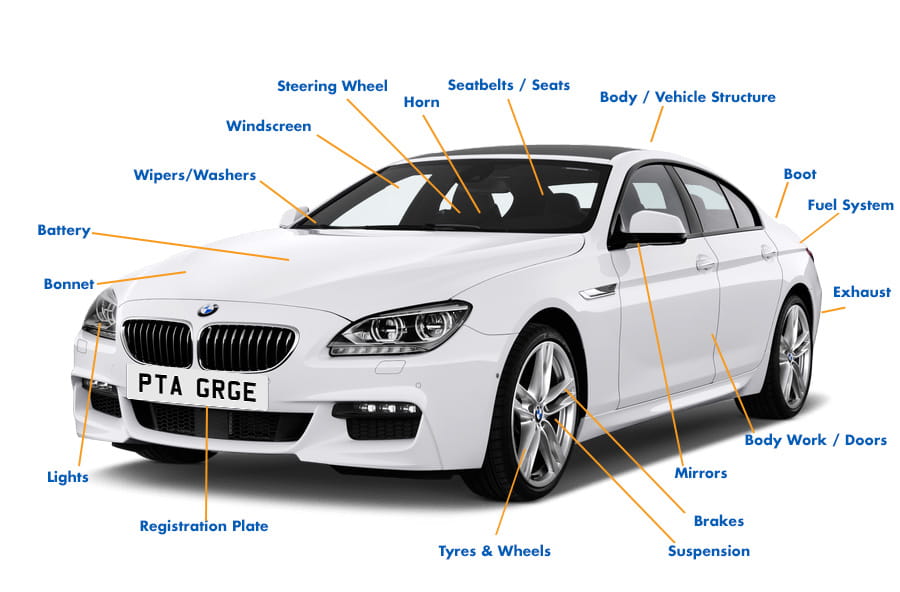 Seats and Seatbelts
The driver's seat needs to be fully adjustable and lock in to place
All seatbelts should be in good condition and operate correctly – during the test, the length of the seatbelt will be checked for damage
Mirrors
All mirrors must be in place and secure
Rear view and wing mirrors must provide adequate views of the road
The mirrors must not be cracked or damaged in a way which impairs the drivers view
Horn
The horn must be in working order and loud enough to attract attention from other motorists
Speedometer
The speedometer needs to work correctly and be accurate
It is ok if the glass is cracked as long as the driver is able to read the speed with ease
Car Exterior
Lights
All lights (front, rear, brake, indicators, rear reflectors, fog and registration plate) must:
Be in correct working order – make sure to replace any broken bulbs before the test
Be in the correct position
Be secure
Not be obscured
Show the correct colour
Windows and Wipers
The drivers view will be checked so you must have any cracks or damages on the windscreen repaired in order to pass the MOT test. The rule is that any damage larger than 40mm on the windscreen, or 10mm in the swept area (pictured) will be deemed an obstruction and the vehicle will fail.
Windscreen wipers, front and rear, must operate correctly and not be damaged
Wiper fluid container should not be empty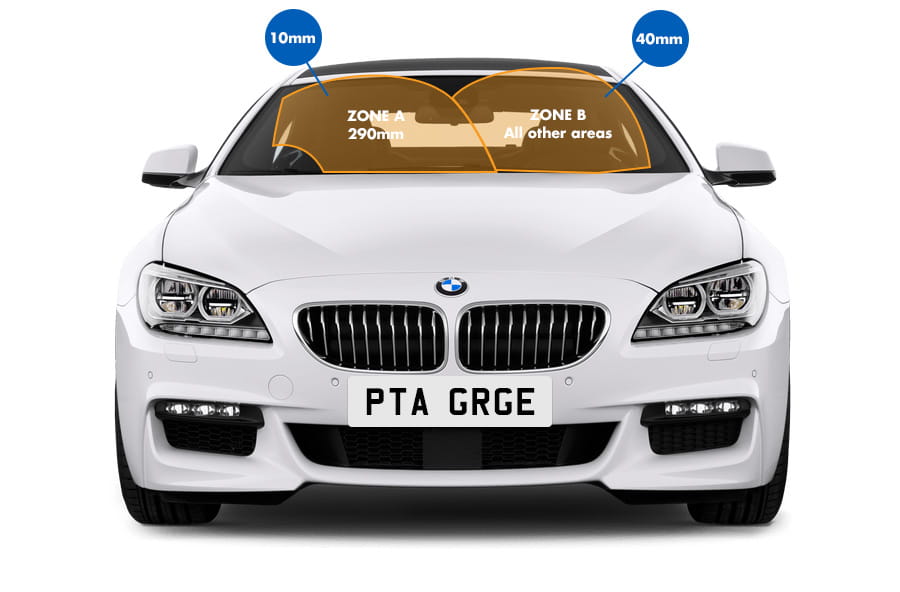 Tyres & Wheels
Wheels will be inspected for cracks, damage and distortion
Tyres must all be the correct size and match each other in structure and they will be inspected for any visual signs of damage
Tyres must have sufficient tread depth, which is minimum 1.6mm
Tyres must be inflated to the correct pressures
Body
The body of the vehicle should be free from excessive damage or corrosion, it will fail if there are sharp edges that may cause injury to other vehicles or people
Doors
All doors must latch securely in a closed position
Rear doors must be able to be opened from the outside
Front doors must open from both the outside and inside
The boot and bonnet need to close securely
Registration Plates
Front and back registration plates need to be secured properly to the car
It is important that the plates are not obscured by damage or dirt
Customised registration plates which do not follow standard formatting could lead to an MOT test fail
Car Engine
Brakes
A brake performance test will be carried out to test the overall condition of the brakes, pedals and levers
The brake lights and relevant dashboard symbols will also be checked
Steering & Suspension
Your steering system must not show signs of damage or corrosion
Your steering wheel must only lock when the car is turned off
Suspension systems will be checked for excessive damage
Fuel System
There must be no leaks in the fuel system and you must have a fully locking fuel cap
The exhaust must be complete and it will be checked for any leaks, corrosion and damage
The noise levels of the exhaust will be examined
Exhaust emissions must meet legal specifications
Battery
Your car battery and all electrical wiring will be checked for functionality and condition
For more information on the MOT test contact your local PTA Garage Services branch where our technicians will be able to answer any further questions you may have.
Find out what is checked in the Class 7 MOT here.
You can book your next MOT online at your local PTA Garage Services branch here.